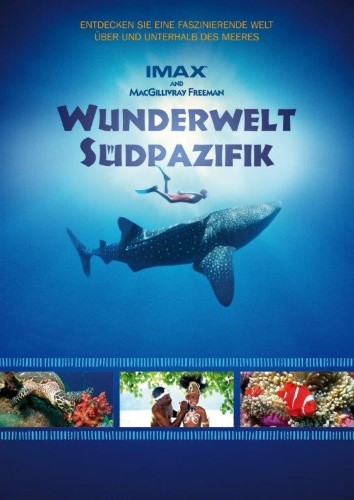 Wunderwelt Südpazifik
Begleitet von stimmungsvoller Musik erzählt »WUNDERWELT SÜDPAZIFIK« in farbenfrohen Bildern die Geschichte des 13-jährigen Inselbewohners Jawi, der an Bord des Küstenschiffs »Kalabia«, einer Art »schwimmenden Klassenzimmer«, aufs Meer hinausfährt um zu lernen, wie seine Heimat inmitten des Ozeans geschützt werden kann. Dort entdeckt er eine faszinierende Welt mit mehr als 500 unterschiedlichen Korallen und über 2.000 weiteren Meeresbewohnern - eine Artenvielfalt, wie sie auf der ganzen Welt sonst nirgendwo anzutreffen ist. Durch die gigantische Kuppel-Leinwand des IMAX DOME Speyer erhalten die Besucher das Gefühl, als würden sie Seite an Seite mit Jawi durch die kristallklaren Gewässer vor Papua Neuguinea schwimmen und mit ihm gemeinsam mit riesigen Lederschildkröten, Mantarochen und sogar einem über 10 Meter langen Walhai auf Tuchfühlung gehen.
no minimum age required
Further information
This film has been approved by the FSK organisation without age restriction. Due to the strong audiovisual impact of the IMAX 3D laser 4 k cinema, we advise against bringing children of under 4 to a performance.
Please note the requirements of the law on the protection of minors:
children under the age of 14 are not allowed to attend a film screening if the film ends after 8 pm
14 - and 15-year old children may not attend a screening if it ends after 10 pm
16- and 17-year olds may not attend a screening if it ends after 12 pm
According to the Youth Protection Act, attending the above film screenings by underaged persons is only permitted if accompanied by a parent or guardian. This responsibility can be transferred by the parents to an adult third party. Please use the form below for this purpose:

Form - confirmation of the custodian
Zamknij